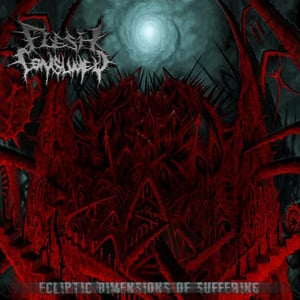 $

10.00
"PLEASE SELECT WHICH CD YOU WOULD LIKE BELOW"
"Ecliptic Dimensions Of Suffering" LP (2010) Unique Leader Records
Flesh Consumed's sophmore full length. Released September, 2010 on Unique Leader Records. Engineered, Mixed, and Mastered at Castle Ultimate Studio's by Zack Ohren. Featuring Cover Art and various other pieces by Jon Zig. Guest Vocals include death metal legends Luc Lemey (Gorguts/Negativa), Erik Lindmark (Deed Of Flesh), and Matti Way (Pathology, ex-Disgorge, Cinerary, Hydrocephalic, etc.)."
"Mutilate, Eviscerate, Decapitate" LP (2008) Sevared Records
Flesh Consumed's ultra brutal debut full length. Released January 2008 on Sevared Records. Featuring guest vocals from: Blue(Guttural Secrete), Obie(Inherit Disease), Hideath(Infernal Revulsion), Shawn(Viral Load, Insidious Decrepency, etc.), Angel(Condemned, Cephalotripsy), Dusty(Severed Savior), and Mario(Analis)